Valve Service division
NASICO has the reputation for repairing valves of all types, sizes and pressure ranges. NASICO services Gate, Globe, Check, Plug, Ball, Butterfly, Control and Safety Relief Valves, Refurbishment of pneumatic, hydraulic and electric actuators and calibration of pressure gauges.
To support the vast range of valves and actuator products installed throughout the Kingdom from various manufacturers across the world, NASICO incorporates major servicing operation which has built up many years of experience in the maintenance of valve equipment and accessories.
With strategically located, well equipped inhouse infra-structure, unique state of the art Mobile Valve Repair Shop, well experienced, factory-trained and certified Technicians, NASICO responds to users servicing requirements within hours and undertakes whatever repairs required, either at shop or at site.
For the larger maintenance contracts/ shutdown and turnaround requirements, NASICO can deploy mobile workshops to perform all type of valve repair, recertification and commissioning.
NASICO is the designated official contractor for many major companies operating in the Kingdom in the Oil Production, Petrochemical and major construction industries. Also operating the on-site mobile repair services backed up by well equipped workshop facility.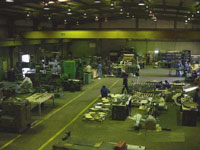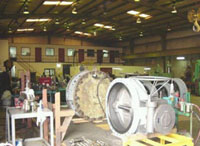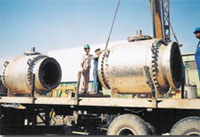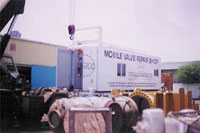 Mobile Workshop
Nasico is capable of overhauling and testing of Safety Relief Valves on site by mobilizing the Mobile Workshop consisting of test equipments, High Pressure Compressor, Lapping Machine, Light duty Lathe, etc..,
Nasico is capable of testing / repairing Safety Relief Valves and Vacuum Breakers of all sizes and types at Shop/On-site.
Nasico is proud of its safety relief repair crew who are well trained at the manufacturing facilities.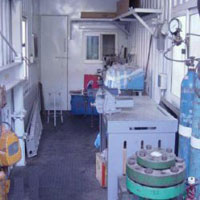 Inner view of the Mobile valve repair shop, showing valves test rig, lapping machine,Lathe machine, etc.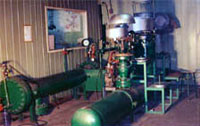 In house relief valve test rig.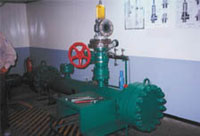 In house relief valve test rig.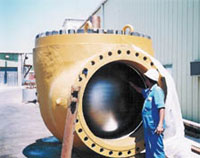 Valve & Actuators Repair Services
A full service capability of testing and repair of valves and actuators of all types from all sources and manufacturers.
Conventional valves (Gate, Globe, Ball, Check, Butterfly and Plug valves)
Control Valves
Relief Valves
Vacuum breakers
Actuators (pneumatic, hydraulic and electrical)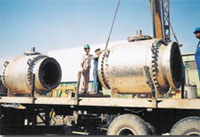 Skills, Services and Facilities Available
Fully trained and experienced workforce.
Access to OEM technical data and support
Fully equipped mobile workshops
Coordination and supervision of shutdowns, start ups, etc.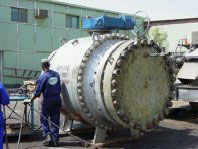 56" x 300# Ball Valve getting tested at our workshop after overhauling
Industries serviced
Inside Kingdom
On shore (Petrochemical, Chemical and Oil & Gas, Power)
Off-shore
RIG (As per ASME requirements)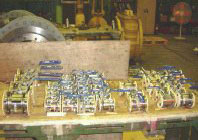 Project Valve Testing Prior to Installation
Prospective Clients
Inside Kingdom
Oil & Gas - ARAMCO
Nasico holds long form contracts from 1982 for overhauling of valves.
Petrochemical & Fertilizer - SABIC
Nasico has carried out overhauling of Conventional, Control and Relief valves for the SABIC Affiliated Companies at Jubail / Yanbu during their Turn around and their general maintenance.
Power & water - SEC & SWCC Nasico holds long form contract from 1982 and also participates in their shutdown projects.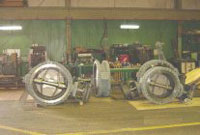 Special Purpose Metal Seated Butterfly Valves - Repaired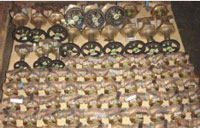 Project Valve Testing Prior to Installation
Outside Kingdom
Nasico is not only known inside the kingdom for its specialization in the field of refurbishment of valves but also very famous outside the kingdom for its outstanding performance in the same.
Nasico is working on overseas shutdowns for the last 4 years.
Nasico has an excellent track record in Qatar and actively working for Bahrain, Dubai, Oman etc..,
Nasico has taken a step ahead in overseas by successfully overhauling of valves off-shore for Qatar Petroleum Platform-4.
Nasico is actively working to expand its wings in all possible direction to provide the best service in the field of valve maintenance, irrespective of its Make, Type, Size, Class and condition.
We have carried out overhauling of Conventional, Control and Relief valves for shutdowns at Onshore / Offshore for Qatar Petroleum.